Our Compounding Ecosystem
Our Compounding Ecosystem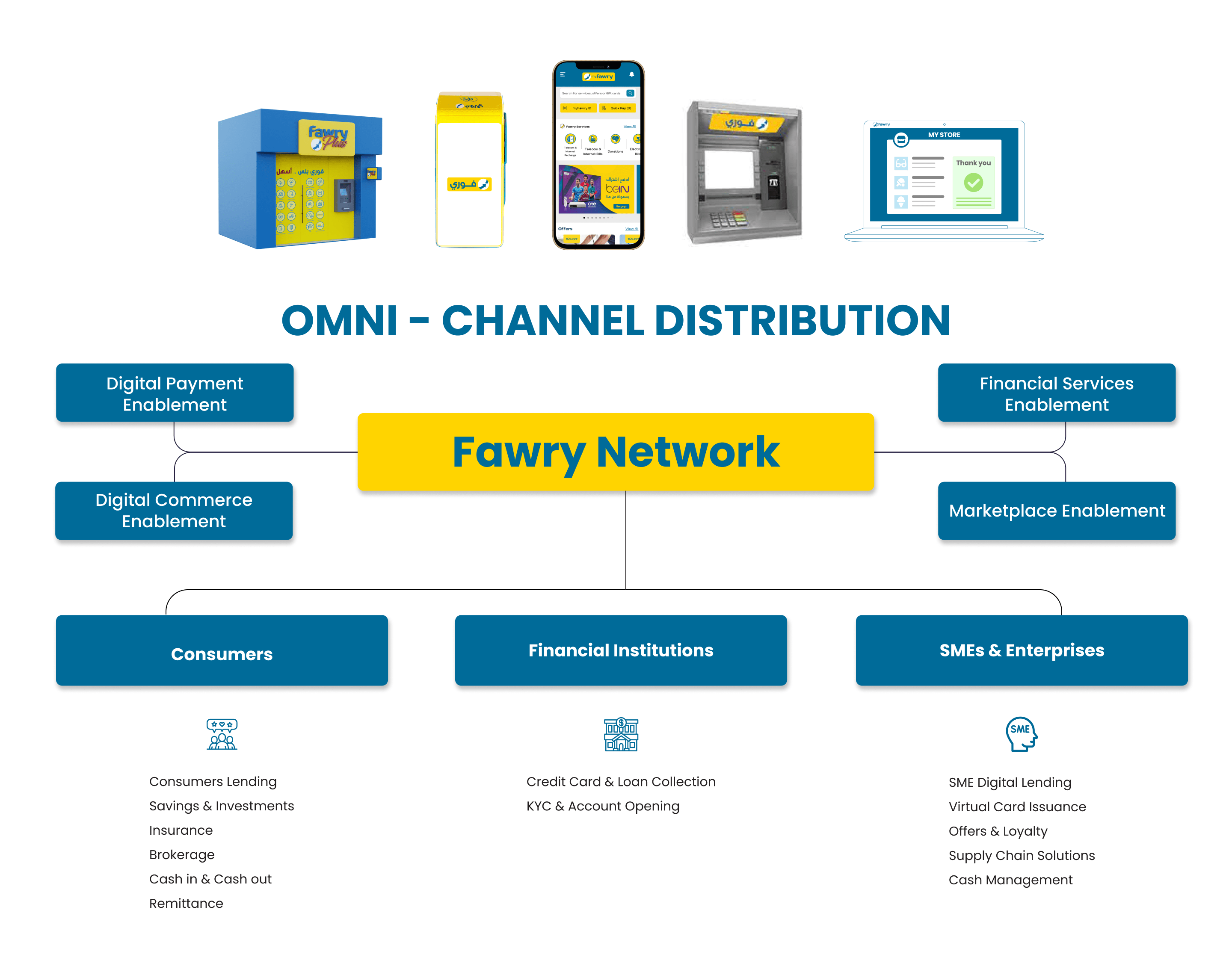 As the first banking agent authorized by the CBE, Fawry Plus provides customers access to a bundle of diverse banking and financial services with an array of advantages. Our top priority is efficiency and convenience, and we achieve this through a network of over 200 branches across Egypt.

In line with the Egyptian government's plan for financial inclusion, Fawry provides a wide array of Microfinance products for Merchants & SMEs, especially those with no access to financial institutions.
Fawry Insurance Brokerage
As a licensed insurance brokerage, FIB provides its services to millions of Egyptians lacking proper insurance coverage, allowing them to capitalize on our huge network of retailers. FIB offers full insurance programs for SMEs and individuals.
The FMCG platform delivers expert solutions for consumer goods companies and merchants, allowing for smoother, cashless transactions. Whether working more efficiently because of our e-ordering technology, benefiting from our working capital finance, or resting easy because of our cash management system, our solutions facilitate and regulate deals and communications for a more rewarding experience.

Providing consumers with top-of-the-line "buy now, pay later" opportunities, Fawry Consumer Finance offers a smooth shopping experience with cutting-edge technology that allows customers to purchase at their own pace and leisure.
At Fawry, we believe in relationships. Relationships with our partners and our community.
Being a Fawry partner is more than just a relationship; you become family!
At Fawry, we value our partnerships. Our partner ecosystem is one of mutual respect, professionalism, support and a kindred spirit of achievement.
Become a Fawry partner and reap the rewards!
Flexibility and specificity
We create the perfect solution for you. No matter what your sector is or the size of your organization, our solutions can be integrated easily and efficiently. You tell us what you need, and we'll have the solution for it! With our one-of-a-kind solutions, catered specifically for you, you will no longer need to worry about payments and processing. Watch as your business grows with Fawry by your side.
With Fawry, you benefit from some of the best loyalty solutions that will keep your customers coming back for more! And with our special promotions options, you can make sure your customers' loyalty is always at a high. Dedicated Account Management
Work with a team that is there for you, all the time. Our industry experts will help you benefit the most from Fawry's diverse solutions and integrations. After all, you are now family, and we take care of our own. Make sure you achieve your best potential with unified payment platforms that can be managed seamlessly from a single dashboard.
Not only will Fawry's solutions help you operate quickly and efficiently, we guarantee seamless integration with your existing systems. Processes will be automated, reporting unified, and workflows made so much simpler.
Change the way you do business today and join a community that is there for you every step of the way!
Below are some of the many partners we have developed relationships with over the years 
We truly believe these partnerships will only grow stronger in the future.